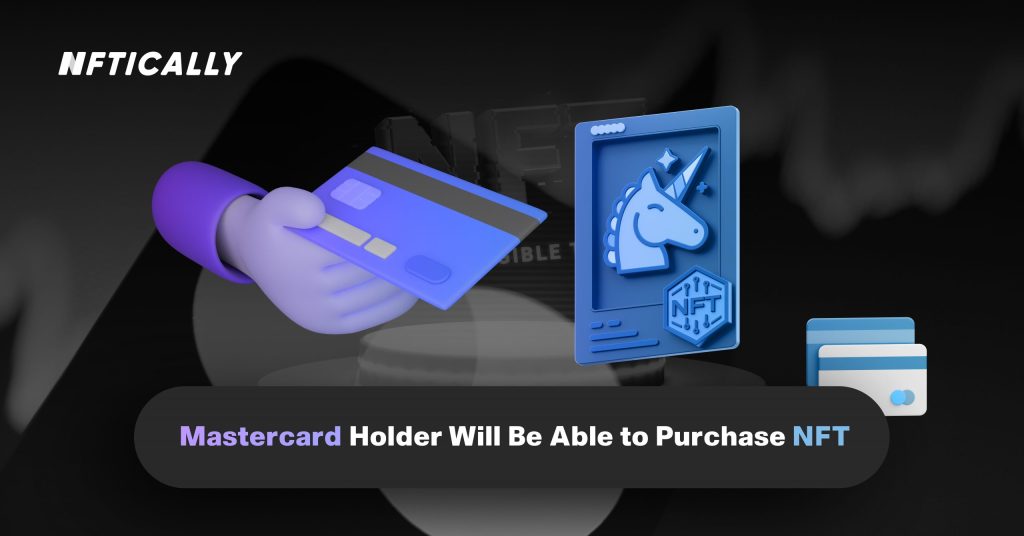 Mastercard Holder Will Be Able to Purchase NFT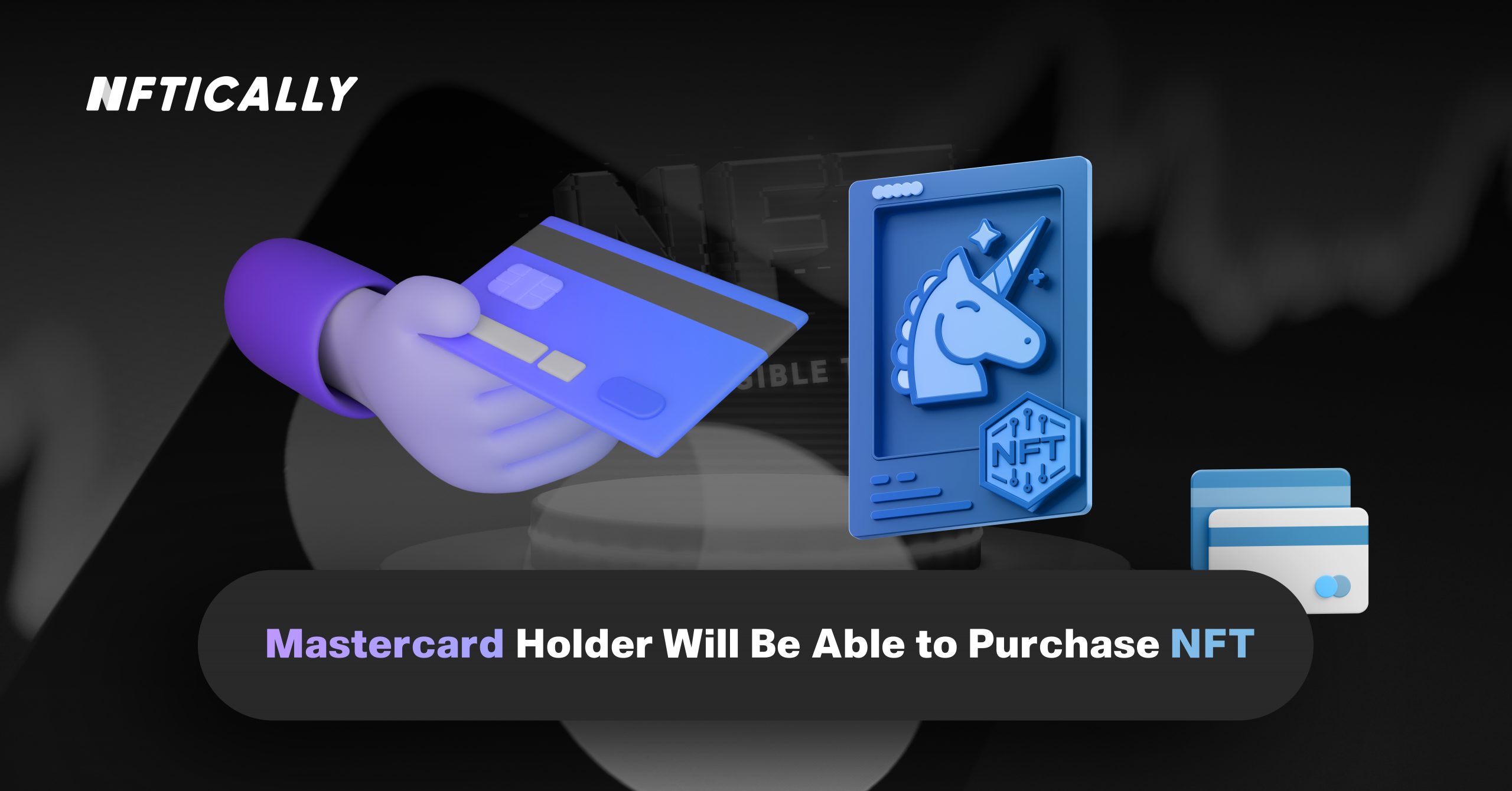 Mastercard is ready to work with major NFT markets to make NFT payments simple for clients across all sectors. The business is studying NFTs and web3 technologies in collaboration with centralized needs for NFTs. In the NFT market, Mastercard shows interest in partnering with Candy Digital and Immutable X, two of the most renowned brands.
NFT marketplaces have partnered with the firm to help it expand its web3 visibility. People should also be able to purchase NFTs immediately with a credit card rather than first getting crypto.
Customers can make direct NFT purchases via the card, which they hope will simplify the NFT commerce process. An NFT poll conducted by MasterCard found that potential NFT buyers want additional options when paying for their purchases.
A survey of 35,000 individuals from 40 countries indicated that 45% of consumers had either bought or considered purchasing an NFT, making the decision. More than half of those surveyed stated they would want to be able to buy NFTs using a credit card or pay with crypto.
When it comes to using NFTs, MasterCard is not the only company to try it out. In January of 2022, Coinbase and the firm entered their first NFT cooperation. Consumers were able to purchase NFTs via the Coinbase NFT marketplace.
Mastercard for NFTs
It should be possible for non-crypto users to use NFTs without the need to purchase Ethereum or other altcoins. MasterCard began providing Coinbase customers access to non-fungible token (NFT) markets in January. As part of the new deal, credit card payments will be authorized for the first time.
In the words of Mastercard's vice president of digital assets and blockchain technology, NFTs will be exchanged like digital assets.
This new payment method makes NFTs simpler for Mastercard holders. With over 3 billion Mastercard holders, the Metaverse is available to people who may not want to invest in cryptocurrency to buy an NFT.
Some who are scared to invest in cryptocurrency cannot purchase NFTs since you require crypto. By eliminating one of the most significant hurdles to NFT purchase, the community will be able to buy them using standard payment methods. The Metaverse grows more widespread as digital collectables become more accessible.
Mastercard patents 15 metaverses, NFTs
By going into the Metaverse in April, Mastercard joined Visa and American Express to increase income and remain relevant in today's digital economy. Online communities in Metaverse allow its members to work with digital money and take credit cards as payment. It is a virtual marketplace where you can buy and sell digital goods and participate in online activities.
These NFT-verified audiovisual elements are included in the valuable trademark application. You might use the red and yellow circles logo to accept payments in virtual environments such as the Metaverse.
According to a patent application, the Mastercard name might appear at Metaverse cultural events, including concerts, sports events, and award presentations.
Crypto and NFTs
Mastercard hired 500 new employees in February to assist banks and merchants with implementing crypto-enabled technologies and NFTs.
Financial institution is not the only one seeking NFT and Metaverse trademarks. The two largest credit card firms, American Express and Visa have applied to the US Patent and Trademark Office (USPTO) for crypto-related patents.
Visa submitted digital currency patents in 2020; they are now developing digital money for their customers. The American Express logo appears in seven different apps.
Customers may use virtual payment cards at an NFT marketplace and get concierge services in Metaverse. Additionally, these credit card issuers have adopted several measures to remain relevant in the digital economy. MasterCard has launched the Start Path Crypto programme, a three-month initiative to assist blockchain and cryptocurrency startups in their growth endeavors.
As part of Visa's Creator Program, the company teaches small business owners about NFTs to help them grow. As a new member of the PCI SSC, Scallop, a DeFi banking app, can share observations and suggestions with the Council on behalf of the industry.
Mastercard supports CBDCs
During a financial report to investors and stakeholders last year, Mastercard CEO Michael Miebach underscored his optimistic view of the cryptocurrency sector. In the last year, businesses have developed dramatically due to the substantial number of clients using MasterCard to purchase bitcoin and the number of cryptocurrency partnerships. During a CBDC argument, Miebach's most ambitious attitude came to fruition.
Cryptomarket effects
On significant NFT marketplaces such as Mintable or Immutable X, cryptocurrency is often necessary to acquire NFTs. This has been the case in the past. Mastercard now allows NFT purchases without cryptocurrency. As a result, certain digital currencies may lose a lot of interest from those who had previously sought them out for NFT purchases.
For key cryptocurrencies utilized for NFT purchases, this might lead to a decrease in their value. Since few NFT marketplaces are under this agreement, crypto and NFTs will not completely split if Mastercard goes all-in on NFTs.
Key points
NFTs are more accessible than ever since many markets accept MasterCard transactions with fiat cash.
MasterCard might boost NFT popularity by making them more accessible.
The Mastercard can decouple cryptocurrencies from NFTs by making it easy to purchase and trade crypto.
To clarify, Mastercard plans to cooperate with non-fungible token exchanges to allow fiat transactions using its card. ImmutableX, Mintable, Nifty Gateway, Moonpay, and more will support this feature. Customers of Mastercard may purchase NFTs using fiat cash on these marketplaces instead of exchanging them for cryptocurrency.
Wrapping Up
Instead of relying on cryptocurrency, Mastercard has teamed up with several NFT markets to make NFT purchases possible. However, NFTs may become more popular due to this agreement, which will make NFTs more accessible to everyone.
Mastercard's decision to exclude cryptocurrencies from NFT transactions can significantly impact the popularity of specific cryptocurrencies. In addition, Mastercard's new NFT marketplace collaborations might put Mastercard ahead of its rivals in the new era of technology. With Mastercard's entry into the Metaverse, cardholders have much more access to this brave new world.
Afraid to dive into the world of non-fungible tokens? Check out NFTICALLY's blogs to learn more about investing in NFTs now!